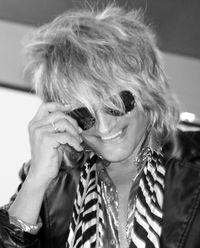 Rick St James is an accomplished singer / entertainer / musician. With his energy and powerful voice, he dominates the stage whether singing rock, soul, blues or his own original compositions. 
 
Influences
Early on it was James Brown and soul music. British rock bands such as Rod Stewart and The Faces, David Bowie, Humble Pie, Free, and Frankie Miller. Add to that Sisters of Mercy, The Stooges and Velvet Underground.  Hard rock and heavy metal. 
Experience
Rick is a veteran of American, European and Asian tours in venues large and small.
Toured as opening act and/or the lead singer with: Twisted Sister, Foreigner, Black Widow, Plum Nelly, Pandora, The Rod Experience (Rod Stewart all-star tribute), Fleetwood Mac, Black Sabbath, Joe Walsh, ELO, Rod Stewart, Muddy Waters, Joe Cocker, Iggy Pop, and more.

Tours Great Britain, Europe, & China, residencies in the Caribbean with original and cover bands. National & International recording acts and club bands
Albums 
Deceptive Lines, Plum Nelly 
Space Amazon, Pandora
Black Widow IV, Black Widow
 
The Rod Stewart Experience 
After premiering his new blues show at a bar in Long Island NY, he happened to hear shouts of Rod from the audience. These shouts followed him during normal everyday life. So when he dyed his hair and did a Rod Stewart segment in his blues show, the Rod Stewart Experience was born. It later became The Rod Experience when after a few years of developing the show and a huge following, he ran into legendary drummer Carmine Appice in Las Vegas. Thereafter they kept in touch to form The Rod Experience. They recruited Rod Stewart bandmates Danny Johnson, Jimmy Crespo and Phil Chen to officially launch the show and bring it to different parts of the world. 
Rick St James is one of the only tribute singers (certainly the only Rod Stewart tribute artist) to be given a thumbs up endorsement by the artist himself, aka Rod Stewart. Rod's fan club, and tour with members of the artist's band, The Rod Stewart Group.

Rick lives in Nashville Tennessee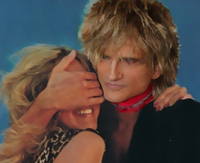 rod stewart tribute | a tribute to rod stewart | rod stewart impersonator